| | |
| --- | --- |
| | a newsletter from |
community
The 9th annual World Maker Faire New York took place a few weekends ago, and in the words of Maker Faire founder Dale Dougherty it was "fun, fresh, and fabulous."

There's always a mix of returning favorites and new exhibits and this year's event was no different. Make: editors were on the ground roaming around the Faire, and you can see all of the incredible things we spotted in our live (at the time) post, but here are some of the highlights:

Artist Christian Ristow's Hand of Man (pictured above) was a crowd favorite. The enormous hydraulic hand was powerful enough to pick up full-sized cars. Lucky Faire-goers got the chance to take control using special glove that allowed the piece to mimic their movements.
| | | |
| --- | --- | --- |
| | Pennsylvania high school students Benjamin Lehrer and Jonathan Roach showed off their giant AI-powered Connect Four game, Marvin. Optical sensors above each column allowed Marvin to keep track of player pieces and a motorized system allowed the AI to place its own pieces. By the end of the show, Marvin was the clear champ. | |
| | | |
| --- | --- | --- |
| | The DIY Content Creators stage, which made its debut at Maker Faire Bay Area this past May, was also a vibrant hit throughout the weekend with speakers like Jimmy DiResta, Laura Kampf, Sophie Wong, Bob Clagett, and more. The audience was packed each day, and half the fun was watching the speakers, who were also often fans of their stagemates, get to interact with each other. | |
And from Dale:

"I was excited to meet the Big Hero Egyptian Robotics Team from Cairo, Egypt. Their project was a cotton candy robot, which they had exhibited at Maker Faire Cairo. The robot worked so hard on Saturday that the motor burned out and they had to find another motor and wire it up on Sunday. Members of this team ranged from 11 to 15 years of age."

In truth, there were way more stories throughout the faire than can fit in one newsletter. Check out makerfaire.com for more pictures, stories, and to find an upcoming Maker Faire in your area.

Hope to see you again next year!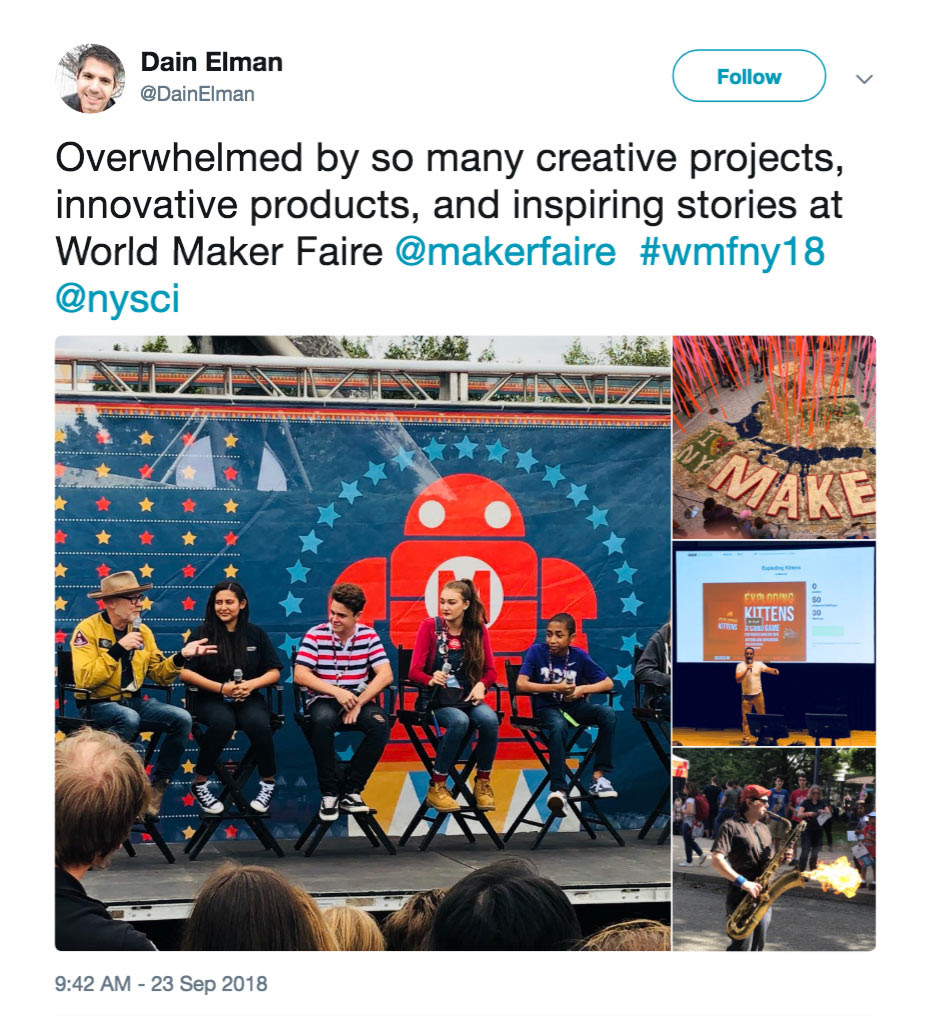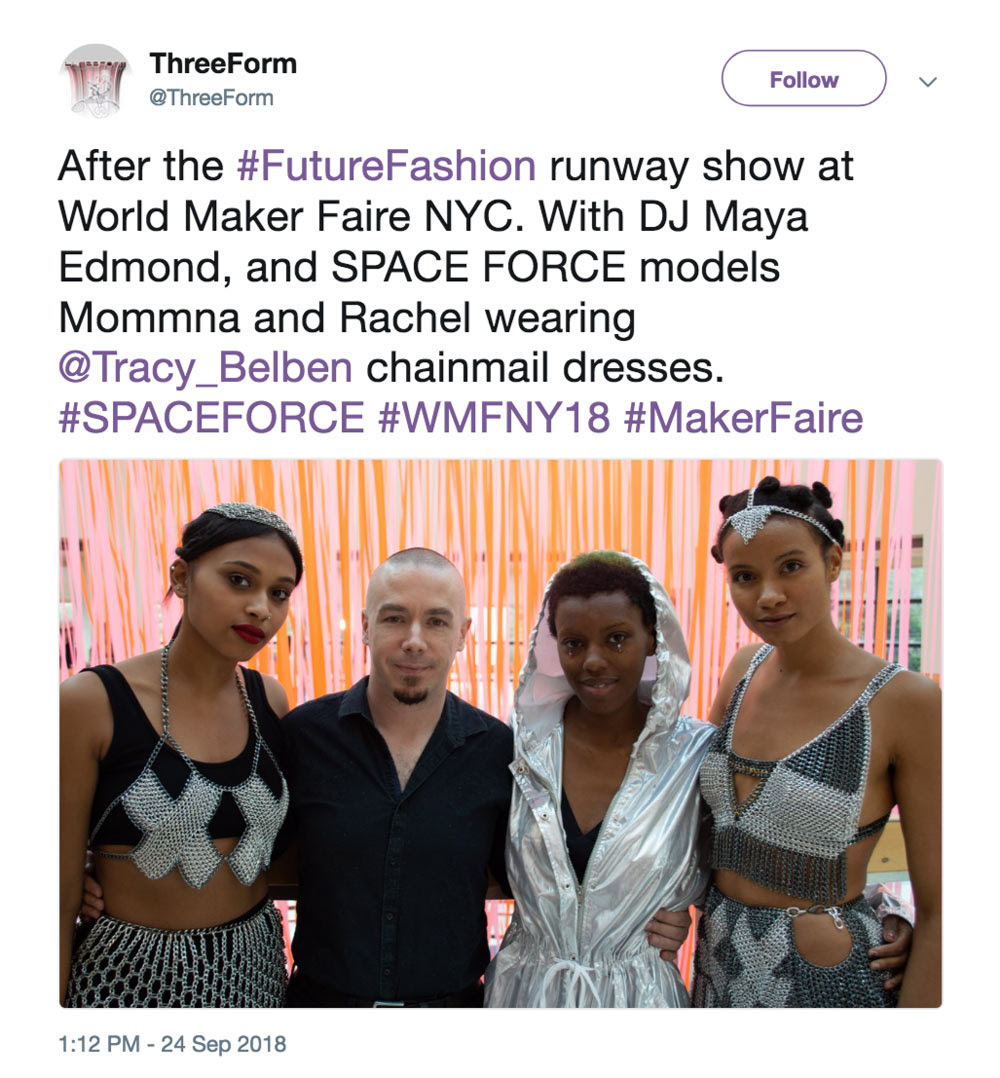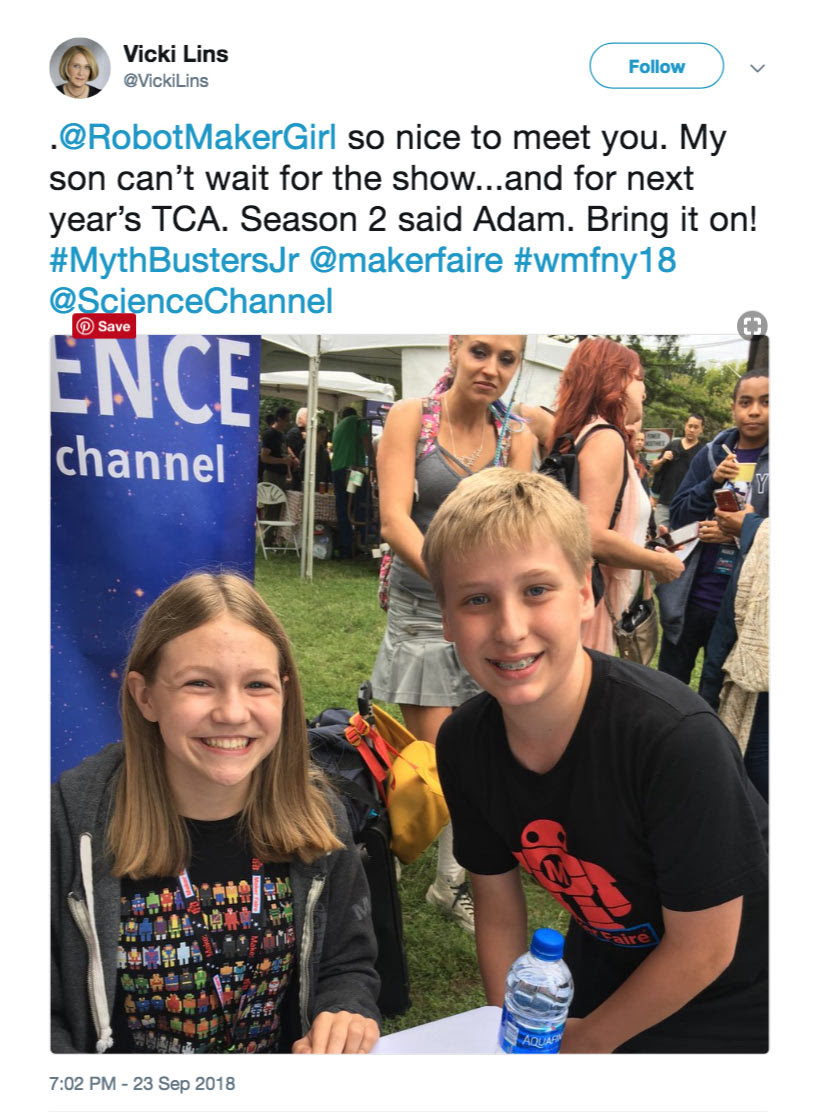 | | | |
| --- | --- | --- |
| | And here are the incredible folks that make it happen! | |
| | | |
| --- | --- | --- |
| | "From the dawn of time, whenever humanity has wanted to know more... we have learned primarily by tinkering." – Curt Gabrielson | |
Curt Gabrielson is the author of the popular book Tinkering, which was first published in 2013 with a second edition coming out in 2015. The book introduced parents and teachers to concepts and hands-on projects for teaching through making. His latest book, More Tinkering, isn't just a sequel -- it's a standalone text that explores the hands-on projects that he developed while teaching students in the island nation of Timor-Leste. We recently got the chance to touch base with Curt and ask him a few questions.

Timor-Leste (East Timor) has had quite a troubled recent history. What brought you there, and what have you been doing?

When the Timorese finally got their freedom in 1999, after twenty-five years of violent occupation by Indonesia, my partner Pamela and I moved there to help rebuild. We felt a certain responsibility since our country had been a large part of the problem during the occupation. I began teaching at the national university, helping to start the physics department. In the ten years I've been there, I've done all sorts of work with local teachers to improve the quality of science and mathematics education, from teacher training to curriculum development, in both formal and informal sectors. We've now made hands-on, inquiry-based learning an integral part of the national curriculum.

In the new book, you describe "tinkering" projects that you discovered or developed in Timor-Leste. What was your motivation for sharing those projects with parents and educators in the western world?

I've just learned so much here from the Timorese that I felt others would also be interested. The idea of an "ancient future" is very real to me now: I can see how important it is to learn from peoples still living traditional lives as we navigate into the unknown of our ultra-high-tech tomorrow. Aside from that, the crackerjack teachers I've been working with here have come up with some brilliant ideas for conveying the principles of science and mathematics, so I thought it'd be good to get these ideas out there.



Greater Hartford Mini Maker Faire (Hartford, CT): October 6
Rocklin Mini Maker Faire (CA): October 6
Lviv Mini Maker Faire (Ukraine): October 6
Baton Rouge Mini Maker Faire (LA): October 6
Maker Faire San Diego (CA): October 6–7
Nashville Mini Maker Faire (TN): October 6–7
Boston Mini Maker Faire (MA): October 6–7
Gerolstein Mini Maker Faire (Germany): October 6–7
Downtown Columbia Mini Maker Faire (Columbia, MD): October 7
Maker Faire Denver (CO): October 12–13
Maker Faire Rome (Italy): October 12–14
Maker Faire Shenzhen (Shekou, Nanshan, China): October 12–14
York County Mini Maker Faire (Biddeford, ME): October 13
Chisinau Mini Maker Faire (Republic of Moldova): October 13
Charlotte Mini Maker Faire (NC): October 13
Maker Faire Houston (TX): October 13–14
Aarhus Mini Maker Faire (Denmark): October 13–14
Reno Mini Maker Faire (Reno/Sparks, NV): October 14
Maker Faire Beijing (Chaoyang, China): October 17–23
Fredonia Mini Maker Faire (NY): October 20
Chattanooga Mini Maker Faire (TN): October 20
Colorado Springs Mini Maker Faire (CO): October 20
East Bay Mini Maker Faire (Oakland, CA): October 21
Montevideo Mini Maker Faire (Uruguay): October 26–27
Maker Faire Bilbao (Spain): October 26–28
Northern Illinois Mini Maker FaIre (DeKalb, IL): October 27
Derby Mini Maker Faire (Derbyshire, UK): October 27
Maker Faire Atlanta (GA): October 27–28
Maker Faire Taipei (Taipei City, Zhongzheng District, Taiwan): November 2–4
Cleveland Mini Maker Faire (OH): November 3
Maker Faire Rio de Janeiro (Botafogo, Brazil): November 3–4
Maker Faire Wellington (New Zealand): November 4





Find a Maker Faire near you on the Maker Faire map.